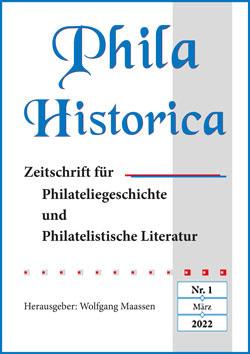 The first quarterly issue of this worldwide unique digital magazine for friends of literature and philatelic history is now available for free download on www.philahistorica.de. With a handling of about 360 pages, the publisher, Phil*Creativ Verlag in Schwalmtal, and its editor Wolfgang Maassen have once again excelled themselves.
Emphasis in this issue are on the one hand individual documentations. For example, on the earlier vignette blocks of the now almost forgotten Essen auctioneer Andreas Schneider, but also two philatelically significant offers of the David Feldman company on the Swiss forgery archive of Jean de Sperati and on the topic of "Stamp Boxes". Highlight in this first part is an illustrated preview of the upcoming Corinphila auction, especially here on only rarely offered 19th century literature rarities (starting from 1862!).
The second part offers Wolfgang Schneider's new series on Germany's stamp artists (27 pages), but then a preprint of the editorial work on the letter "S" of the "Wer ist wer in der Philatelie" book series (220 pages!). This is still very incomplete and unillustrated, but already offers a 'foretaste' of what may appear in print later this year. Such preprints serve the reader participation, because numerous references of readers, even also further information always go in addition with the author Wolfgang Maassen.
Two shorter works by Christer Brunström on philatelic miniature libraries and Rudolf Buschhaus on the book series "Geschichte der Deutschen Post" (History of the German Post) complete the spectrum, along with other sections.