Membership
Become a member of the AIJP!
The membership application form for dedicated jouralists, authors and sponsors can be downloaded as a PDFdocument by a simple klick on the following link: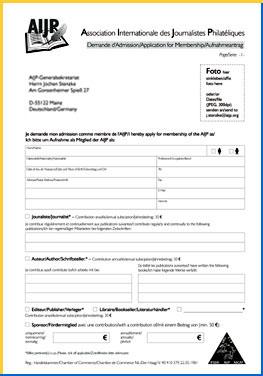 The application form can easily be completed online and printed afterwards. Then you only need to sign and send it either by mail or by fax to:
AIJP Hans Schwarz
Postfach 177
CH-5707 Seengen
Schweiz/Suisse/Switzerland
Fax +49 (0)2163 30003
Membership Fee for Journalists and Authors
The annual membership fee presently amounts to 40 Euro.
From 2005 on all members get an invoice which includes all bank details that are necessary for bank transfers. In case you do have the details any more or you want to make up for payment here are the current bank details:
| | |
| --- | --- |
| Bank name: | Postbank Frankfurt (Deutschland/Germany) |
| Bank identifcation code: | 500 100 60 |
| Account No.: | 301 040 605 |
| Account holder: | Association International des Journalistes Philatéliques (AIJP) |
| IBAN: | DE78 5001 0060 0301 0406 05 |
| BIC: | PBNKDEFF |
Even easier and accessible all over the world is the online payment facility via PayPal (secured transfers). Beside that it is much cheaper than bank transfers. Mainly The costs do not exceed 2 Euro. Please, pay 42 Euro if you decide to pay the yearly membership fee this way to cover the expenses. For all other payments like sponsor and partner contributions, please, use the right button.
| | |
| --- | --- |
| 1. Annual Membership Fee | 2. Sponsoring the AIJP |
| | |