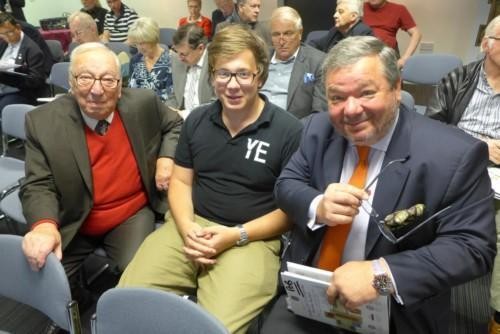 It is with sadness that we have heard of the loss of Bernard Behr, on 16 January last, aged 97, following 77 years of a passion for Philately that he shared with us all.Everybody knows the renowned Maison Behr, founded in 1920 by his father Georges, which Bernard developed and grew before passing on the baton to his son Pascal, who in turn has been more recently joined in the firm by his son, Louis-Edouard.
These four generations of philatelists have been heading and taking forward one and the same philatelic business. It is something that is so rare these days that it is worth highlighting.Bernard had a real passion for Philately, not just that of France, which he knew intimately, but equally that of the whole world. He particularly enjoyed the classic period up to 1900, which held no secrets from him. Many a collection of the greatest importance passed through his hands.
His knowledge of the different areas of Philately was only equalled by his kindness and his sense of hospitality.He had a particular gilt of putting at ease all his clients, regardless of their degree of importance, and encouraging them and accompanying them in the creation and constant improvement of their collections.
He was a dealer who was out of the ordinary. He had the most marvellous memory and an enthusiasm which was contagious. What rarities and philatelic marvels passed in front of his amazed eyes! His greatest pleasure, as he would recall with a glint in his eye and with his sense of humour, was to continue to enjoy stamps armed with his tweezers and his magnifying glass, which never under any circumstances left his side.I first met Bernard more than 40 years ago. I still vividly recall the first time I crossed the threshold of his Shop at No 26, Avenue de l'Opera. At the time, I was just starting my collection of Morocco postal history. From the outset, he gave me his advice and, little by little, a relationship developed between us which was frank, trusting, bene-volent on his part and solid. Over time, he became almost like a philatelic father to me.I saw him at the recent salon d'automne in Paris and he appeared as interested as ever in our favourite hobby. We are going to miss him sorely; indeed I already miss him.
Our thoughts are with his family, and in particular with his widow, Gabrielle; his son, Pascal; and his grandson, Louis-Edouard. May he rest in peace in the paradise of philatelists where a special place awaits him, consonant with his exceptional professional career and his kindness.
(text sent by Behr Philately) Photo: Behr_Bernard_Louis-Edouard_und_Pascal_London2015_Photo_WM.JPG
A snapshot from LONDON 2015 shows, from left: Bernard Behr, his grandson Louis-Edouard and his son Pascal. Photo: Wolfgang Maassen