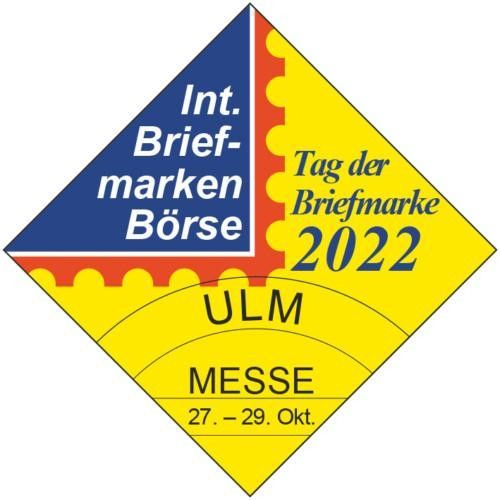 The International Stamp Fair, which was held for decades at the Sindelfingen Trade Fair Centre, will celebrate its comeback at the Ulm Trade Fair Centre from 27 to 29 October 2022 after a three-year break from Corona. The new location is perfect for the relaunch, because the pleasant city on the Danube, located between Munich and Stuttgart, is easy to reach for visitors and exhibitors by car as well as by train and tram. There are plenty of parking spaces directly at the fair.
The range of products offered by the almost 80 specialist dealers, auction houses, accessory manufacturers and publishers has an international character, and beginners as well as advanced collectors should be able to find what they are looking for. Deutsche Post will surprise visitors with five special cancellations and a photo portrait system where visitors can have their likeness printed on a prepared, unstamped postcard. On each day of the fair, there will be a special postmark on the themes of the Stamp Fair, Ulm Fair and Ulm Cathedral. They go well with the trade fair postal stationery, which features a photo of the Ulm trade fair and the event logo. The special postage stamp for "Stamp Day 2022" is imprinted. The LV Südwest has applied for two more special postmarks for "Stamp Day 2022" (Baden misprint) and for the REMSMA competition exhibition (Ulmer Spatz). Special cancellations, cachets and other trade fair products as well as an extensive range of novelties are also on offer from the participating foreign postal administrations or their agencies.
Service is a top priority at the International Stamp Fair Ulm. In Hall 2, the collectors' associations will answer all questions about the hobby and membership in associations. For young visitors, the Briefmarkenjugend Südwest has designed another theme park: This year, everything revolves around the theme "Stamp Detective Days". Further information can be found on the homepage https://briefmarken-detektiv-tage.de/.
A highlight for those interested in postal history is the international competition exhibition "Postal History – Live", where almost 50 exhibits will compete for the coveted post horns. The "Symposium for Postal History" on Friday afternoon offers free lectures in which individual aspects of postal history will be explored in greater depth. In addition, there will be regional exhibition REMSMA 2022 with various exhibition classes..
The information stands of almost 40 study and research communities will provide more in-depth knowledge.
The great offer of the International Stamp Fair Ulm from 27 to 29 October 2022 (Thursday to Saturday) at the Ulm Trade Fair Centre costs only 5 euros admission! The fair will be open daily from 10 am. Up-to-date information can be found on the internet at www.briefmarken-messe.de.