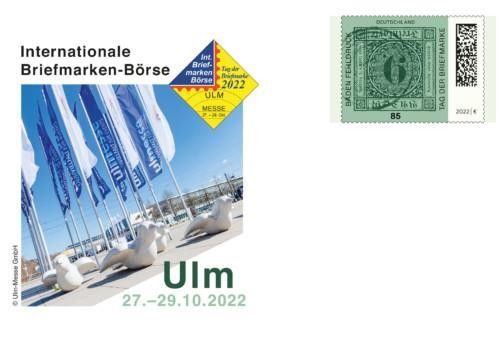 The international competitive exhibition "Postal History – Live" has been an integral part of the International Stamp Fair for decades and a must-attend event for exhibitors and collectors from all over the world interested in postal history. Inseparably linked to the PGL, as it is abbreviated among connoisseurs, is the Postal History Symposium, in which speakers from Germany and abroad present individual aspects of postal history in short but concise lectures.
This year, the competitive exhibition is again very extensive with 312 frames. The total of almost 50 collections again promises a high standard and a wide range. No easy task for the international jury chaired by Thomas Höpfner to select the aspirants for the coveted Golden, Silver and Bronze Posthorns. As an introduction for interested visitors, Class 4.6 is recommended, in which a selected topic of postal history is presented in just one frame.
Interested collectors can obtain information at the stand of the Deutscher Altbriefsammler-Verein (DASV), which has accompanied and supported postal history events for years. Information stands will also be maintained by the Swiss Association for Postal History and the Saxony Research Association, which together with the DASV will form a block in Hall 2.
Programme of the Postal History Symposium
13.00-13.15    Klaus Weis: Opening and introduction
13.15-14.00    Dr. Heinrich Conzelmann (D): "Time is Money – Aspects of the Aspects of the
duration of transport in transatlantic postal traffic with the USA before 1900".
14.15-15.00    Prof. Dr. Mark Bottu (B): "The Thurn & Taxis Period in the southern
Netherlands".
15.15-16.00    Alfred Schmidt (D): "Foreign letters from Prussia during the
stamp period 1850-1867".
16.00-16.30    Klaus Weis (D): Final discussion and summary
Admission to the symposium, which will take place in room 1, is free!
IBB Ulm: General Programme
Thursday, 27 October 2022
10.30-12.00    Opening ceremony (Room 2/3)
13.00-14.30    Reception for "Stamp Day 2022" by LV Südwest
(for invited guests only – room 2/3)
14.00-15.00    Presentation of IBRA 2023 (Room 1)
15.00-18.00    Presentation of the auction house Heinrich Köhler
18.30               APHV Evening (for invited guests only – Ulm Fair, Foyer)
Friday, 28 October 2022
11.00-12.00    Rauhut Literature Prize/Deninger Prize Award Ceremony (Room 1)
11.00-12.30    Jürgen Olschimke: Counterfeit stamps to the detriment of the
Deutsche Post since the introduction of the euro currency (lecture, room 2)
12.30-13.30    Presentation IBRA 2023 (Room 3)
13.00-17.00    Symposium on Postal History (Room 1)
14.00-15.30    ArGe French Zone (Room 2)
16.00-17.00    ArGe Greece (Room 3)
16.00-18.00    Philaseiten (Room 2)
Saturday, 29 October 2022
10.00-12.00    Ring of Liechtenstein Collectors (Room 2)
10.30-11.30    Prize-giving ceremony REMSMA (Room 1)
11.00-13.00    ArGe Kolonialpostwertzeichen-Sammler (Room 3)
11.30-13.30    Presentation of the Posthorns and DASV Literature Award (Room 1)
12.30-13.30    Presentation of IBRA 2023 (Room 2)
14.00-16.00    ArGe Hungary (Room 1)
14.00-16.00    Ring of Liechtenstein Collectors (Room 2)
14.00-16.00    ArGe RSV (Room 3)