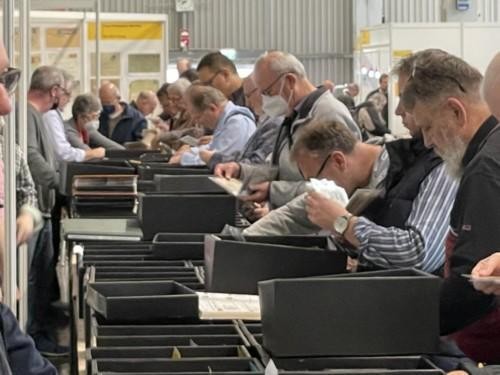 (Photo credit: Detlev Moratz)
Long queues at the entrance and at the stands: The new start of the International Stamp Fair from 27 to 29 October 2022 in the beautiful Danube city of Ulm was a complete success! Thousands of stamp collectors from Germany and neighbouring countries flocked to Halls 1 and 2 of the Ulm trade fair over three days and made for happy faces among the approximately 80 dealers, postal administrations and accessory manufacturers. There was hardly anyone who did not speak of good to very good sales. At the Deutsche Post stand, the stamps were even sold out at times.
However, not only new and old stamps were in demand, but also covers from all areas of collecting. The five special postmarks of Deutsche Post and the trade fair products of the participating foreign postal administrations were very popular.
There was also a rush to the advice stands in Hall 2, where experts from the associations answered all questions about the hobby and also carried out valuations. The information stands of the almost 40 study groups offered deeper insights into individual collecting areas, and several specialist lectures delighted especially postal history collectors.
The results of the international competition exhibition "Postal History LIVE" were eagerly awaited. "Golden Posthorns" went to Karlfried Krauß (D), Angelo Teruzzi (I), Dr Wolfgang Leupold (D), Jürgen Herbst (D), Luc Selis (BE) and Willy Monfils (BE). Jürgen Herbst also received the DASV literature prize for his handbook on Saxon postage stamps and their cancellations.
The date of the next International Stamp Fair has already been fixed: it will take place from 26 to 28 October 2023, again at the Ulm Fair. Up-to-date information can be found on the internet at www.briefmarken-messe.de.