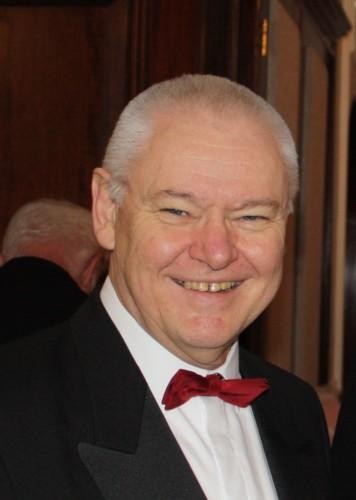 Photo: Dane Garrod (Feb. 2022)
On April 1, 2022, the renowned British philatelist Frank Walton died of the consequences of a stomach cancer that was apparently not recognized in time. Five weeks before, as president of the organizing committee of LONDON 2022, he had successfully mastered as well as managed this world exhibition under the most difficult conditions and was present at all events without any trace of his illness being foreseeable. Until mid-March, he was still actively and enthusiastically participating in the discussions of the Publication and Crawford Committees of the Royal Philatelic Society London (RPSL). Then his voice fell silent.
"We lost one of the greatest philatelists, a great philatelic leader, a good friend …", a voice is quoted on the Internet. Anyone who knew Frank Walton more closely will agree.
Frank had been collecting stamps since he was five years old, when a school friend encouraged him to collect British Commonwealth stamps. In the mid-1980s, he focused on Sierra Leone, becoming a member of the West Africa Circle and, a few years later, editor of "Cameo," the magazine of that working group. His enormous and extraordinary talents were quickly recognized, not only in the journalistic-editorial field, but also in the IT field. Thus, years later, he also became editor of the "London Philatelist", the professional journal of the Royal Philatelic Society London, national and international juror (for the exhibition classes traditional and aerophilately, postal history and literature) and exhibitor. He was President of the "Royal" and signed the "Roll of Distinguished Philatelists" in 2015. In the same year he was General Commissioner of LONDON 2015, having been a member of the LONDON 2010 organizing team five years earlier. He presided over the World Exhibition in London, which was postponed from 2020 to 2022 due to the pandemic.
His own philatelic interests were broadly diversified. As recently as STAMPEX 2019, he displayed a newly assembled fiscal stamp exhibit on issues of Perkins, Bacon & Petch, but he also made frequent appearances with his own literary works. He was an esteemed member of the AIJP, the World Association of Philatelic Authors and Journalists, but also frequently traveled as a country commissioner for British exhibitors at FIP exhibitions. His advice and tireless support on various committees of the RPSL were universally praised and recognized. He was a brilliant strategist and great thinker. His sudden unexpected death will leave a huge void. He will remain unforgotten.