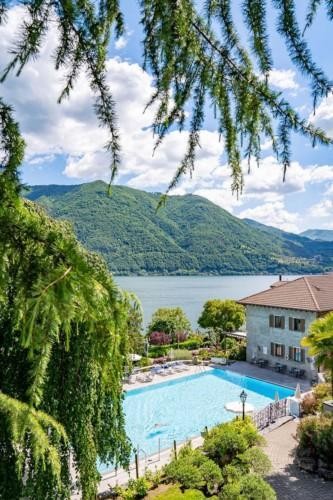 An important exhibition will be held in our neighbouring country from 18-22 May 2022. This is a specialised world stamp exhibition under the patronage of the FIP and the recognition of the FEPA on the occasion of the 160th anniversary of the "Seated Helvetia", the first perforated Swiss stamp and the first to bear the designation Helvetia. The event is organised by the Swiss Philatelic Federation in collaboration with the Philatelic Society of Lugano.
The exhibition will be held at the Padiglione Conza, Lugano's exhibition and congress centre, which has space for around 2,000 exhibition frames. The AIJP (Association internationale des journalistes philatéliques) and the AEP (Académie européenne de philatélie) have also taken on the patronage of HELVETIA 2022.
Now Lugano, the city on a dreamlike lake, offers plenty of hotels in every price range. But especially if you are travelling with a partner who is perhaps not as bitten by the "philatelic monkey" as you are, there are also places to stay where you can combine the pleasant with the useful. Philately with wellness and recreation. One such destination is the luxurious hotel oasis Parco San Marco, about 13 km from Lugano, also located directly on Lake Lugano. The owner is none other than a professional philatelist who was world famous more than 50 years ago: Auctioneer legend Hartmut Schwenn! More concrete information about the facility, the offer and the prices can be found at https://www.parco-san-marco.com/de/parco-san-marco/. In front of the site there is a bus service that will take you to Lugano in 17-36 minutes, depending on the route. Hotel transfer by taxi (approx. 16 min. drive) is also possible.
The Consilium Philatelicum of the BDPh and the AIJP, the World Association of Philatelic Authors and Journalists, are currently planning to host a small philatelic presentation at this Parco San Marco on Thursday, 19 May 2022, from approx. 17-19 hrs, followed by an optional dinner. Günther Korn, BDPh Commissioner and Chairman of the Consilium, and Wolfgang Maassen, President of the AIJP, invite German exhibitors, the Commissioners of the neighbouring countries and interested collectors to this event before and during HELVETIA, which will open the day before. It is expected that there will be the possibility to travel together to and from Lugano by bus.
The following programme is planned:
17.00               Opening in the conference hall in Parco San Marco
Greetings from Hartmut Schwenn
17.10               Presentation of IBRA 2023
17.30               Presentation of the AIJP
17.40               Presentation of the Global Philatelic Network (Köhler/Corinphila) –
Sponsors of the event and IBRA 2023
17.50               Break with invitation to a glass of sparkling wine
18.15               From Shanahan to Schwennahan … An unusual life picture. (PP presentation)
18.30               Discussion with Hartmut Schwenn and guests
19.30               Optional dinner (self-pay basis)
21.30               Return bus journey
The final programme will be announced in April. Pre-registrations are welcome to W.Maassen@philcreativ.de