If you take a look at the website of next year's World Philatelic Exhibition in Essen, you will certainly notice that a lot is happening at the moment. The names of the study groups that will be present with a table stand from 25 to 28 May 2023 are already listed. There are 28 of them, and stamp fair organiser Jan Billion recently let it be known that others have registered, whose names will also be listed there in a few weeks. Some others are still keeping a quiet face in view of the 150 euro contribution per table stand, but good advice is not expensive, namely to look for a suitable sponsor. One is amazed at what is then sometimes possible.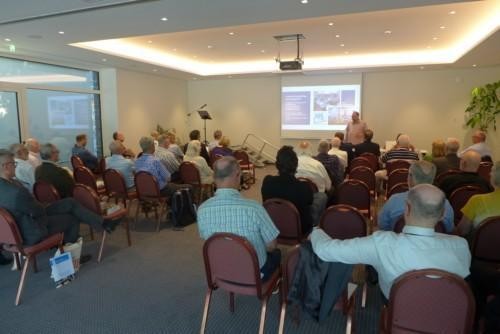 Photo: Eric Scherer at the first presentation of IBRA 2023 in Parco San Marco near Lugano on 19 May 2022. Photo: Wolfgang Maassen
Support has never been so important!
The list of sponsors was also updated. Seven so-called "supporters" (with 100 euros) now stand against 17 "sponsors" (with 300 euros). The number of "silver supporters" (1,000 euros) has increased to seven and Dieter Michelson has also joined the list of "gold supporters" (5,000 euros). More new silver and gold promoters will be introduced in the next issue of "philatelie". Clever calculators know that these "IBRA sponsors" will have already donated 27,800 euros to their "child", all in the hope that this IBRA 2023 will also offer something worth seeing."We are only at the beginning of a long road," emphasises IBRA organisation director Wolfgang Maassen. "There is still a long way to go, but at the moment the support efforts for additional sponsoring and promotional cooperation are underway on various channels. I am quite optimistic and confident that we will achieve something worth mentioning."
A download centre can now be found under the INFO tab (see: https://ibra2023.de/info/download-center/). The dry name conceals something bigger, namely lots of drafts of finished advertisements in .pdf and jpg format, in various sizes, which advertise participation in and attendance at IBRA 2023. Societies and study groups, publicists and others can use these for their publications.
Eric Scherer, a member of the BDPh board, has also created a newly designed PowerPoint file in German in recent weeks, which was demonstrated for the first time on 19 May near Lugano at a German exhibitors' evening. Katharina Erb from the BDPh office has translated this into English and both versions can now also be downloaded from the Download Centre for free use. Certainly a good idea to draw attention to IBRA at meetings and club evenings. For this PowerPoint file provides information on all the essential aspects of the overall event, as far as they have been laid down so far. Scherer – who is also responsible for PR and media in the IBRA team – is currently having the current IBRA website significantly expanded and technically upgraded. It is expected to be launched in July 2023.
A heart for youth and more …
Last but not least, the "Youth" section of the website should be mentioned. See: https://ibra2023.de/ueberblick/jugend-aktionen/ Here you can already find a good insight into the current planning. The DPhJ will be present at the IBRA with about 100 m2 and promises a colourful programme that will also be advertised in the schools in Essen and Mülheim a.d. Ruhr (after all, there are about 100 schools).
Some things are still in motion, others have already been roughly defined. The IBRA team meets via ZOOM every fortnight and time flies. Willing exhibitors – whether for stamps or literature – still have until the end of September to register with the respective national commissioner. Application forms and the so-called IREX (the special conditions of IBRA 2023) can be downloaded from https://ibra2023.de/ueberblick/aussteller/.