(Zurich/pcp) The conclusion of the Corinphila anniversary year could hardly have been more spectacular: The ERIVAN Switzerland and Zeppelin Mail collections were auctioned with great success.
A number of top pieces of this collection as well as international topics have been described in detail on the German version of this website. The complete list of results is available online at www.corinphila.ch .
Indispensable success factor: online live bidding
With a further increase in the participation of live online bidders of more than 20% compared to the June 2019 auction, the recent Corinphila auction series has once again demonstrated the importance of the Internet for modern auctioning. The winning rates in international collection areas to Internet bidders from all over the world who successfully participated in the auction via the proven online live bidding system speak for themselves.
Compared to competing "auction platforms" on the Internet, the advantages for interested buyers are obvious. Instead of a rigid, time-bound sale against highest bid at a fixed time, the combination of a traditional hall auction with online participation in real time offers all possibilities: spontaneous decisions can be made without time pressure, the bidder can react at short notice when it matters, a bid is only accepted when no more bids are received, and there is always the possibility to adjust the budget at short notice and intervene again in the auction process. Bidders from all over the world use these advantages with great success, as the auctions of recent years have shown – and the trend is rising.
This is also a decisive success factor for consignors, who thus achieve a far greater reach for the sale of their philatelic treasures. The choice of an auction house that actively participates in this development and offers all possibilities of participation is interesting for the consignor.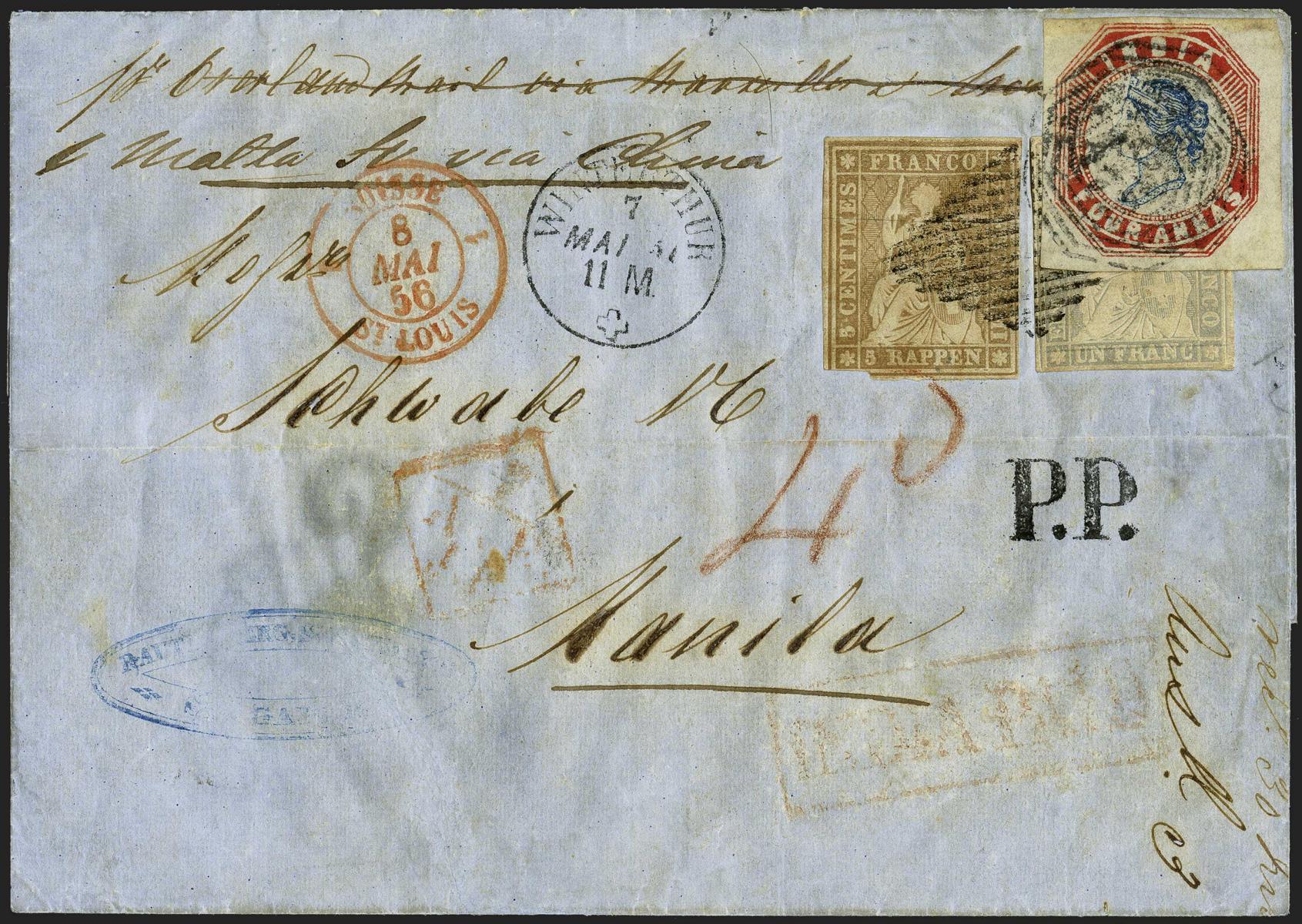 A splendid example from the importance of Live-Bidding was given by a sensational bidding battle over a 1856 letter from Winterthur to Manila in the Philippines franked with two Swiss 'Strubel' stamps and an Indian stamp. The rare piece (starting bid: CHF 10,000) sparked the euphoria of collectors from the auction hall in Zurich to India: up to an increase of CHF 60,000, six bidders were still involved in the bidding war. The competition was finally decided between a telephone bidder and an online bidder, who drove up the rare piece to a fabulous CHF 130,000! A spectacle that was hard to believe for those present and once again demonstrated the power and presence of live online bidding in interaction with the classic bidders.
The next Corinphila auction series will take place from 26 to 30 May 2020 in Zurich (closing date for consignments: 15 March 2020). For further information please contact: Corinphila Auktionen AG, Wiesenstrasse 8, 8032 Zurich/Switzerland, Phone: + 41 (0)44 389 91 91, Fax: + 41 (0)44 389 91 95, E-Mail: info@corinphila.ch , Internet: www.corinphila.ch