(pcp-wm) On 7 February 2020, the well-known philatelist, juror and author, Dr. Wolf Hess, celebrated his 75th birthday with his family and some friends.
Among the philatelists who had travelled from near and far were: Alfred Schmidt, the President of the Bund Deutscher Philatelisten, Klaus Weis, the President of the Deutscher Altbriefsammler-Verein and Dr. Joachim Maas.
Alfred Schmidt surprised the jubilarian with the award of the Golden Needle of Merit of the BDPh, with which the association honoured Wolf Hess' great services to German philately. Over the decades, Hess was estimated worldwide as a national and international juror – both for traditional philately and for thematic and postal history. As an exhibitor, he enjoyed great success, even winning Grand Prix prizes. As an author, he appeared in recent years with a remarkable book "Cuba – The Triangular Trade" (2016) and only recently, Phil*Creativ Verlag published a reprint of his writings on the postal history of London, which were written in 1994 and are still extremely worth reading today.
Together with the Honorary Chairman of the Consilium Philatelicum, Wolfgang Maassen, Alfred Schmidt appointed Dr. Wolf Hess and his friend Dr. Joachim Maas, like Hess a renowned juror and exhibitor, to the circle of the Consilium. They congratulated both of them on behalf of Günther Korn, the current Chairman of the Consilium.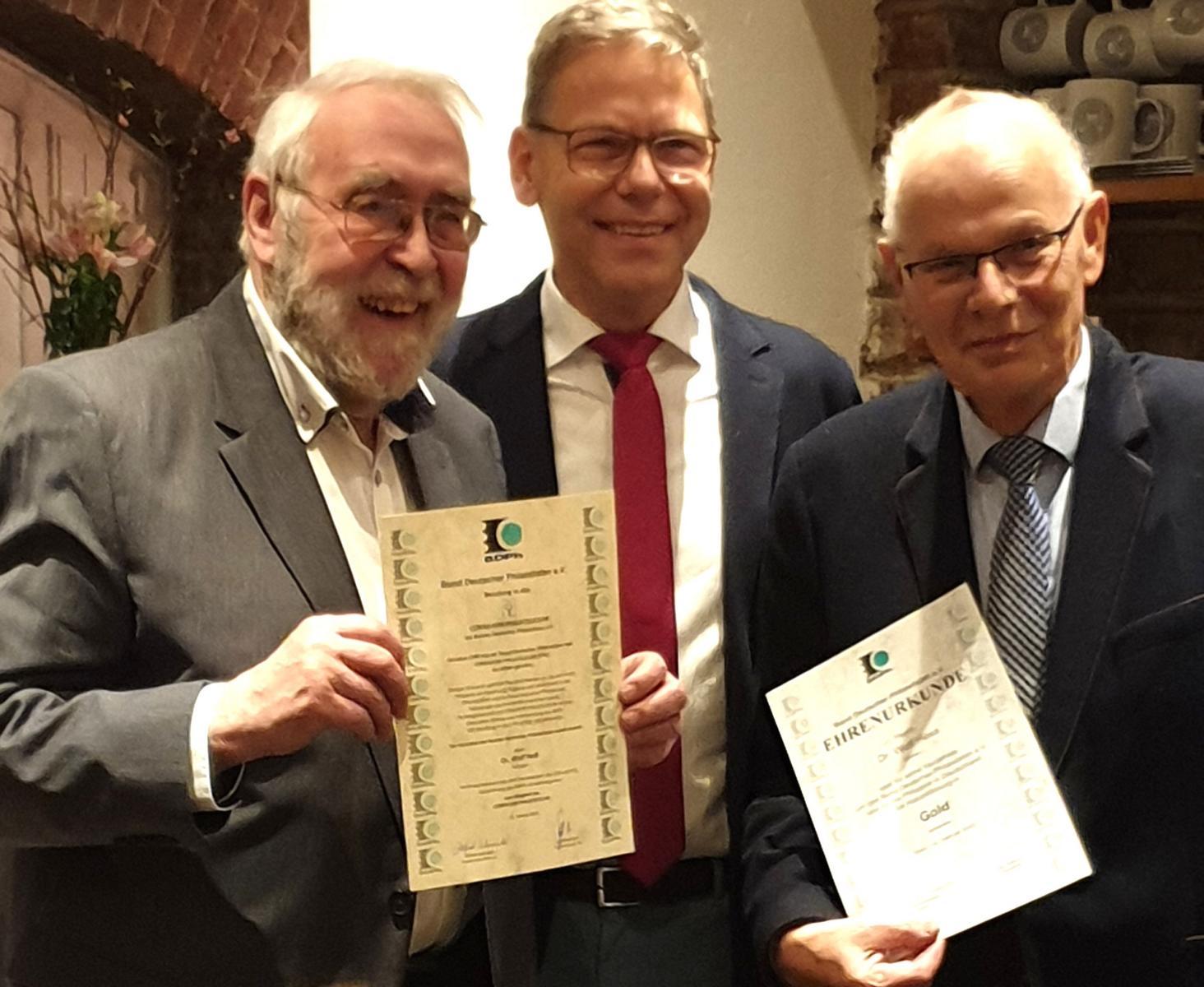 Twice honoured: BDPh President Alfred Schmidt (centre) presented Dr. Wolf Hess (right) with the BDPh Gold Pin Award, and together with Wolfgang Maassen, CPh Honorary Chairman, with the certificate of appointment to the Consilium Philatelicum. Photo: Claudia Maassen