(aijp) From June 25-28, 2020, the Russian House of Science and Culture in Berlin will once again host an International 'Rank 1' stamp exhibition. Under the traditional name OSTROPA, collectors from Germany as well as philatelists from various Eastern European countries are invited to show their exhibits in Berlin. Applications for philatelic literature is especially appreciated. The two exhibition directors, Dr. Wolfgang Leupold and Dr. Klaus D. Schult, have in early consultation with the AIJP worked out very favourable conditions for interested literature exhibitors, which are exemplary (e.g. the costs per literature exhibit is only 30 euros and only one copy of your exhibit has to be sent in, which can also be returned).
On 26 April 2019 the AIJP – represented by its president Wolfgang Maassen – confirmed its patronage and its intention to support this exhibition in particular. "We will invite authors and publishers to take part in OSTROPA with their own works, because such a literature-friendly exhibition deserves every possible support," Maassen stressed when he and the two OSTROPA exhibition directors confronted the photographer.
The so-called INFO 1 with the exhibition conditions is available and can be requested digitally by e-mail at Schult@ostropa2020.de or Leupold@ostropa2020.de. It can also be downloaded from the website www.ostropa2020.de . The closing date for applications is 15 February 2020.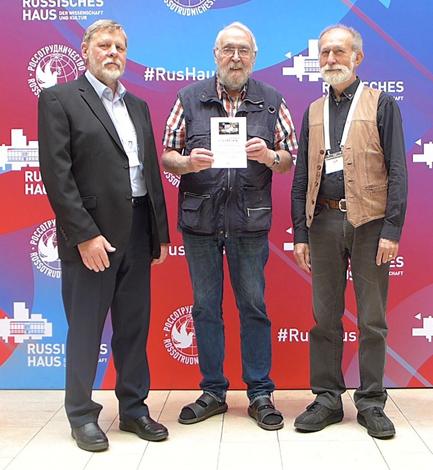 Dr. Klaus D. Schult (left), Dr. Wolfgang Leupold (right) and Wolfgang Maassen (AIJP) present INFO #1 of OSTROPA 2020 (Photo: Torsten Berndt).